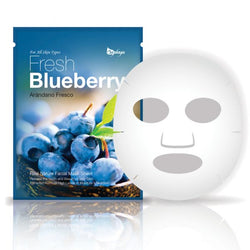 Saplaya Skincare
Fresh Blueberry Facial Mask Sheet



Reveal a healthy, youthful glow with this Natural Charcoal Mask. Infused with deep cleansing ingredients, the medicinal mask purifies the skin by alleviating clogged pores.
Size: 25ml / .8oz
1. Clean and dry face and neck thoroughly
2. Gently unfold the sheet and smooth on the face.
3. Remove mask after 15-20 minutes.
4. Gently massage away any remaining residue.
Caution: For external use only. Use immediately after opening products. Keep out of reach of children. Avoid eye area or open wounds. Avoid using on already irritated skin. Stop use and consult with doctor if skin becomes red, swollen, itching or burning occurs. Store at room temperature.